Yesterday I drove into the Moravian Karst, today I drive through it. Directly behind Sloup are the first lime towers and the first grottos and caves. I drive to the Punkwa Valley, which is a dry valley here, because the water has found its way through the Swiss cheese of the underground. The path is fantastic, asphalted, car-free, through a deep valley. Similar to yesterday, but this time also downhill – a cycling pleasure! After a few kilometers I reach the entrance of the Punkwa Caves. Drivers come here by cable car – downhill! As a cyclist you have parking spaces, the caves are directly at Eurovelo 9!
I'm lucky, a guided tour begins just a few minutes after my arrival. I don't understand anything (all in Czech), but I got a handout in German and looking in such a stalactite cave is the most important thing, but there is not enough time for that. Quite quickly they are passed through and suddenly stand at the bottom of the Macocha Gorge. Almost 140 meters above the cave the earth has collapsed and created a doline. It is fantastic to look up from below the steep forest slopes and at the same time the view through the cave roof is limited. I can't transport the impression into a photo, I'll probably have to keep it in my biostorage.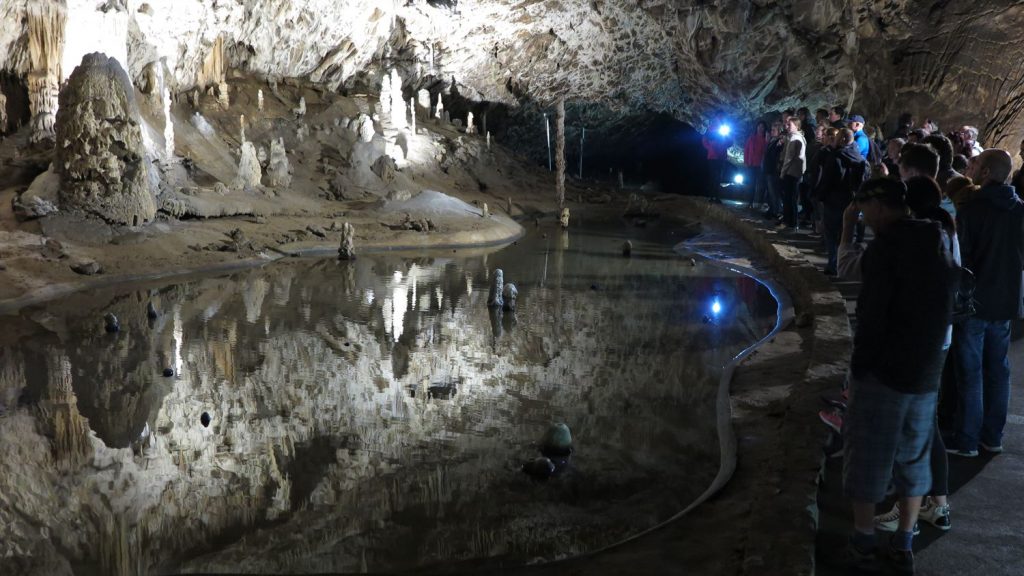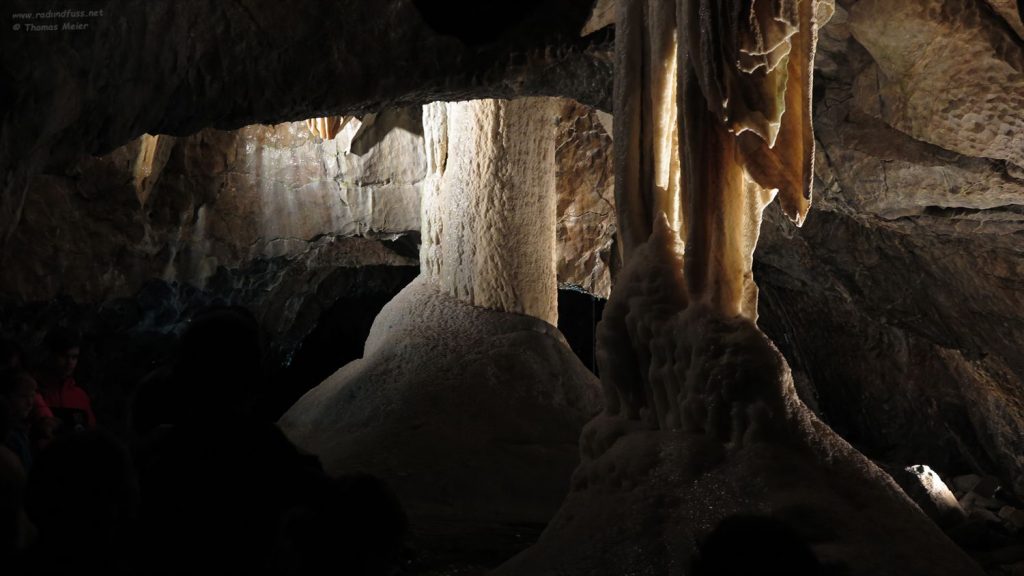 And already we are further complimented to the boat trip. Because now it goes on the Punkva, which flows here underground, by further cave passages and domes back to the entrance, where the river finally comes to light and accompanies me on my further journey a while longer.
Next stop: Brno. Here is another UNESCO World Heritage Site: Villa Tugendhat. It is a villa built between 1929 and 1930 according to plans by Mies van der Rohe and if I think about it correctly: despite the then certainly revolutionary design, it is probably not my style. When I read that he wanted to counteract the constantly changing colours of nature with the colours in the interior, I know that this does not correspond to my understanding of architecture.

I'm just going downtown for a quick lunch break. I was approached by a couple from the Rheingau – the trigger was the route on the back of my jersey, which repeatedly serves as a "door opener". She, a native of the Czech Republic, even from Prague, raves about Brno, so I wonder if I should really go on directly. But on the other hand, you can never see everything. We get "from the sticks to the sticks" (sorry, I don't know a corresponding english Idiom), the lunch break gets longer and longer, an espresso is added, but finally we say goodbye. If you two should read this, then thank you again for the stimulating conversation and to you, Karl again happy birthday and especially congratulations to the second life!

So, let's go south, I'll probably leave the Czech Republic tomorrow. I find a possibility to camp at the yacht club of Pasohlávky on a beautiful South Moravian lake.

Translated with www.DeepL.com/Translator

Total distance: 91.64 km
Max elevation: 496 m
Min elevation: 168 m
Total climbing: 1357 m
Total descent: -1681 m


Download file: 20180831.gpx