In the night there is a thunderstorm. Above the karst the lightning flashes and thunder comes from Portoroz – about 120 per second. Luckily I am an experienced Ohropax sleeper by now! 🙂
After a few kilometres along the sea I am at the border. But what is that? Border controls! Both when leaving Slovenia and when entering Croatia! From one EU state to another! Did anything happen while I was on the way?
The Parenzana is a former railway line from Trieste to Poreč (in Italian: Parenzo), as I wrote yesterday. It was operated as a narrow-gauge railway between 1902 and 1935. In 2008 it was reopened as a multinational "path of health and friendship" for cyclists and hikers. The Slovenian part, as I experienced yesterday, is very well developed, the Croatian part less. Behind the border apparently a piece of the old route is missing, at least I have to climb steeply and gravelily a good 100 meters of altitude which the narrow-gauge railway would certainly never have mastered. The steepness is over sometime, it remains gravelly. And so my way goes through oak forests, as the only source of noise the tyres crunch on the gravel and the luggage rattles. Butterflies fly up in front of me and lizards flit aside alarmed.
Since I don't know whether Grožnjan, my destination today, has an ATM and I still have to get Kuna in the non-euro country of Croatia, I make a detour to Buje, where there are three of them within a radius of 10 metres. Also a local festivity. From all sides I get sounded with music – even with three different ones at the same time, which is a bit of a bitch for me! Nevertheless, I still allow myself a cappuccino!
In the further course I meet other cyclists more and more often, of course with the mountain bike. And to be honest, it makes sense. The gravel is mostly manageable for me, but with coarse tires and suspension (and without luggage) this is surely more fun! And this is the part that Itzok says is still quite ok!
In Grožnjan I already finish for today, even if it is hardly early afternoon. But firstly, I still have a lot of time until the return flight on Thursday and secondly I wanted to go here again (Uta and I were already here once in 2011). Grožnjan was almost completely abandoned by its population in the 1960s, when some artists settled here on the basis of free housing in return for building maintenance and in the course of time first created a kind of artists' colony and then a tourist attraction with many galleries, arts and crafts shops and speciality shops (wine, olive oil and truffles). Music is also very popular here. In summer there are classical concerts and jazz festivals. Despite the tourist popularity it still has a certain bohemian flair, especially in the evening when the day guests have disappeared again.
And here are some pictures from Grožnjan , before and after sunset: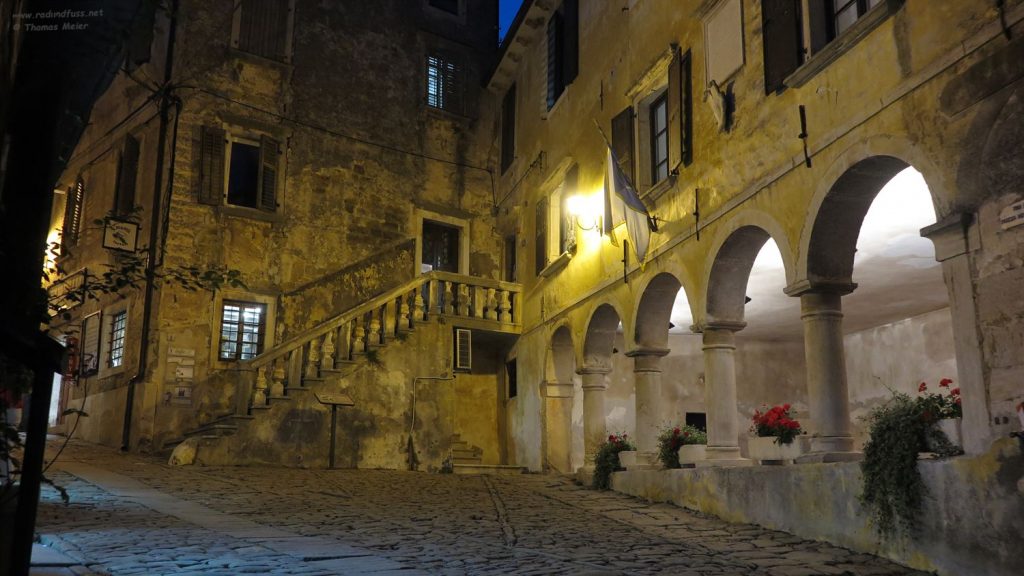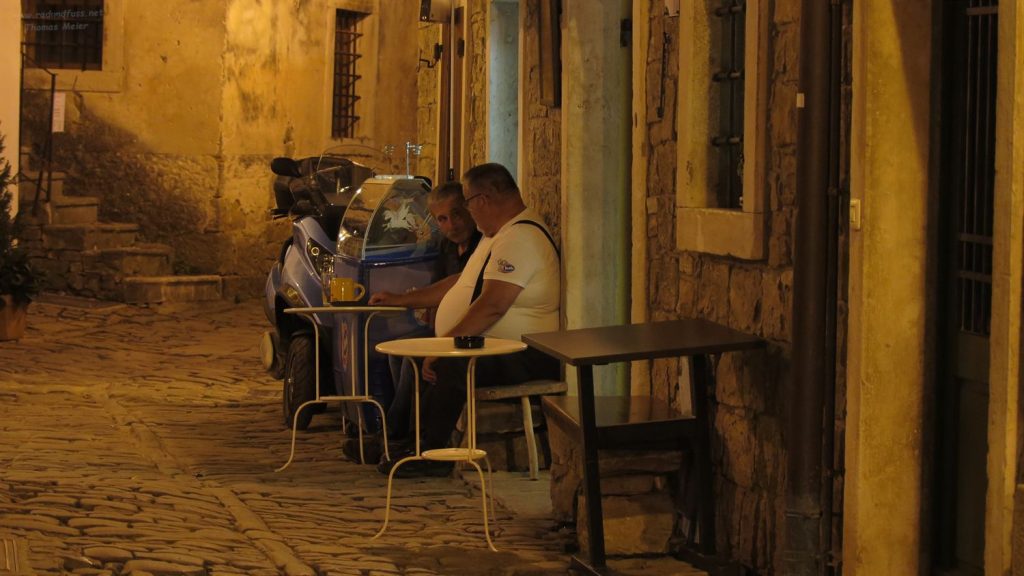 Translated with www.DeepL.com/Translator

Total distance: 25.75 km
Max elevation: 293 m
Min elevation: 1 m
Total climbing: 557 m
Total descent: -290 m


Download file: 20180915.gpx