Giant Finn McCoel wanted to build a dam to Scotland. The legend writers don't quite agree on his reasons, so let's keep to the neutral thesis that he wanted to cross over dry-footed, for which he might have had his reasons again. But, why does he start the dam called Giant's Causeway today at the coast north of Bushmills and not 20 km further east in Torr, where Scotland's peninsula Mull is only half as far away? No wonder he's only come about 100 meters.
But these 100 meters are impressive! Which is probably less due to Finn McCoel than to the massive lava flow that took place about 60 million years ago. The lava then cooled down slowly, leaving behind about 40,000 evenly shaped basalt columns – if you consider only those that are still visible. The largest columns are 12 metres high and are estimated to be at least half a metre wide.
But this tourist highlight is at the end of today's hike. We start not far from the uninhabited small island Carrick-a-Rede, which can be reached as another tourist attraction by a rope bridge that spans a 20 meter wide strait 30 meters above the spray. As meanwhile for just about everything in Ireland, a considerable amount of money is due: approx. 10 Euro p.p., so that we save the spectacle and turn west instead. First along the small harbour of Ballintoy we are rewarded by narrow paths directly along the coast that we have almost for ourselves. Partly through meadows, partly along rocky coastal sections, sometimes even through small rock tunnels that erosion prepared for us, we soon reach Whitepark Bay, a crescent-shaped sandy beach that is approximately two kilometres long. We can't help taking off our shoes and doing this section barefoot. Fortunately the ebb tide is only two hours ago, at high tide the accesses on both sides of Whitepark Bay are impassable because of the limestone cliffs surrounding it!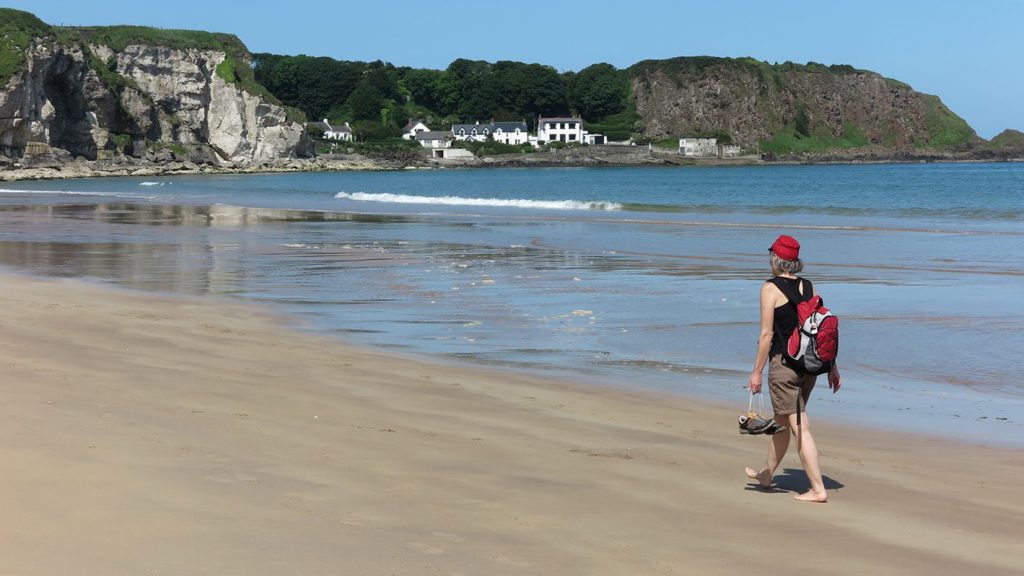 The limestone coast ends and gives way to steep basalt cliffs, which fray in many ledges and headlands in the sea. The path, which we have to share more and more with other hikers and excursionists, now leads exclusively along the edge above the cliffs until it finally reaches the rock tank in front of the causeway. Through a steep staircase – the Shepherd's Steps – we get down and under gigantic basalt walls, which not without reason carry the impressionistic name Giant's Organ.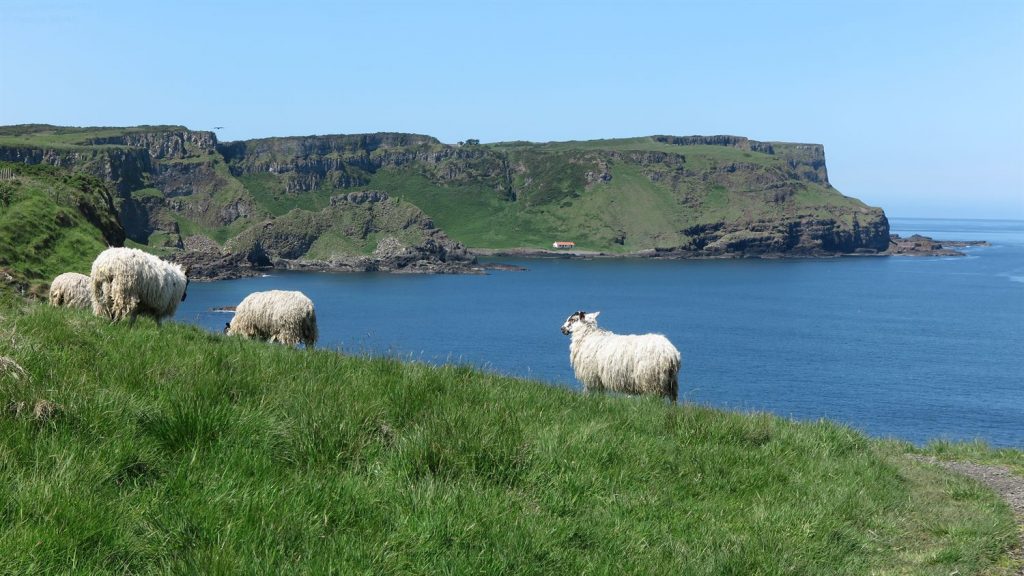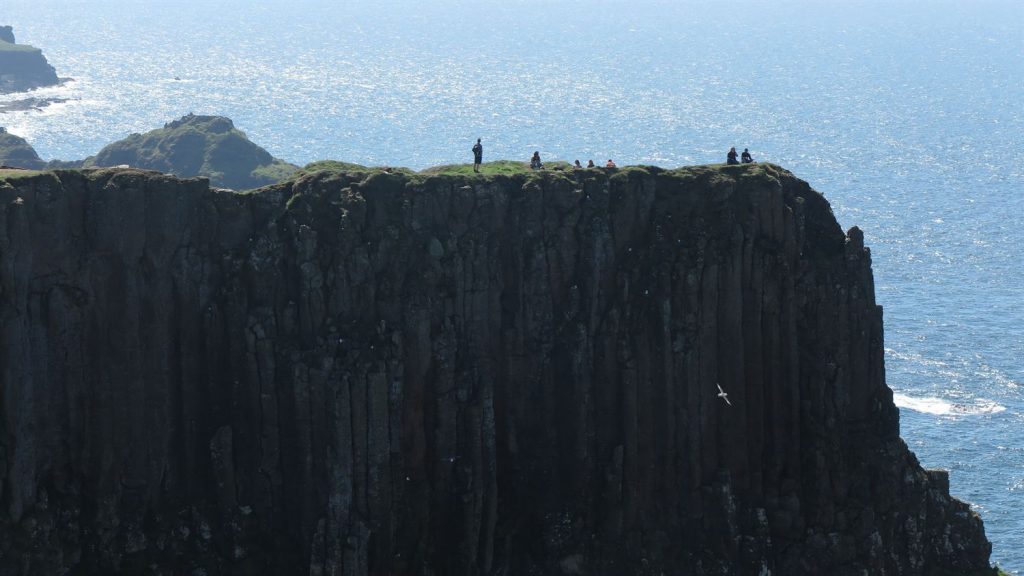 When I have already been here once in 1977, we walked a path that led very impressively through the steep cliffs at about half height. Since 1994 this path is impassable, because parts of the cliffs above have fallen on the way so it was closed – understandable!
Now we turn to Giant's Causeway. What a difference to April 1977! Back then there were three of us here – Gaby and I have been here with David, whom we met at the Whitpark Bay Youth Hostel – today here are hundreds. And buses bring supplies every few minutes along an asphalted feeder road that didn't exist back then. A few meters before the waterline there is a guard who whistles back those who move too far towards the sea! O.K. Here it is again, the old dilemma: We want to see awesome things, preferably exclusive and first. And because it was so amazing, we tell it to many others who want to see as well. Facebook and Instagram help enormously to shorten the half-life of so-called insider tips by a multiple. So we are part of the tourist stream that we want to avoid – and "we" of course includes me! But at this point I promise never to present an insider tip in this blog!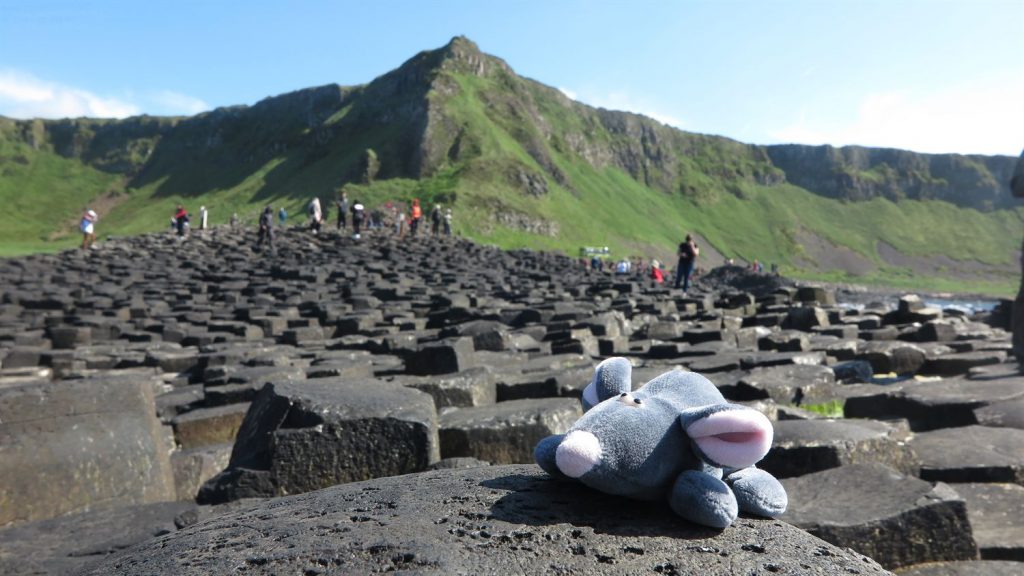 Total distance:
19.69 km
Max elevation:
101 m
Min elevation:
1 m
Total climbing:
869 m
Total descent:
-916 m
Download file:
Causeway costway.gpx
Translated with www.DeepL.com/Translator (free version)