Sunday, 19 June
From Matignon we ride a lot overland with relatively few gradients and occasionally come to the sea. With the necessary café-instinct we find such a place on the way off the route, which passes the respective village centre wonderfully free of motorways. But somehow, the local café-owners have not yet discovered bicycle tourists as potential customers, whereas at the river Elbe, for example, there are always signs that point to cafés and restaurants, museums and accommodations.
Suddenly we are in the middle of a construction site, where the car yard is supposed to be completely redesigned. No detour signs to see (who cares about cyclists!). The GPS wants to send us on the two-lane highway to St. Malo – we don't like that. After a long search and a bit of intuition we finally find the route again in the form of an inconspicuous forest road.
From Dinard we take the ferry over the Rance to St. Malo. The ferry can be reached – not really barrier-free – via 11 steep steps and a long, railing-free concrete ramp. The ferry itself has no ramp, the wheels and luggage are simply lifted over the railing – fortunately by the captain himself, who has the figure of a bear. Nevertheless, I almost saw my front bag in the water!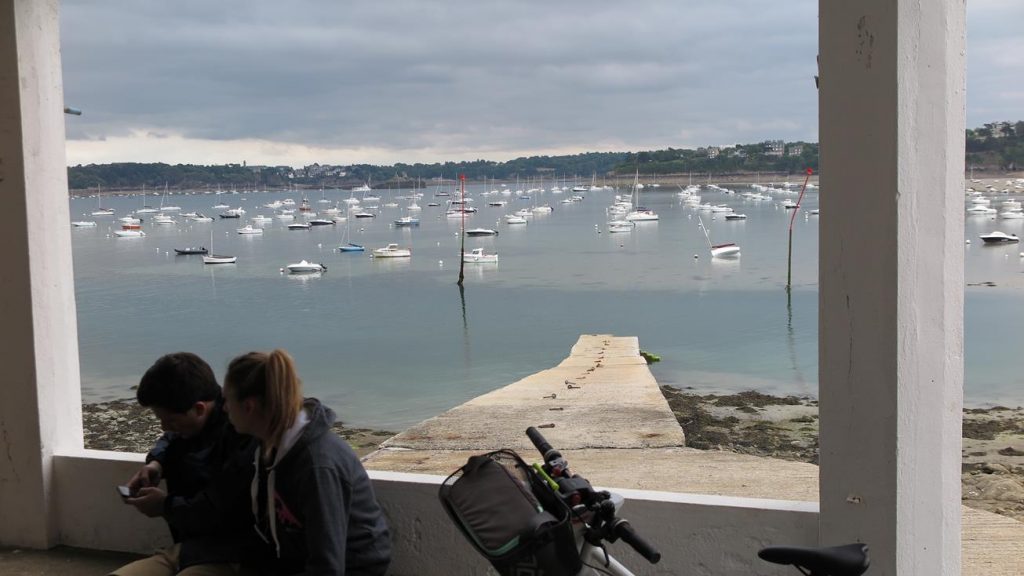 St. Malo is the most important port city on the north coast of Brittany and one of the most visited tourist resorts in France due to its historic city centre and fortifications – and you can see that! Of course you have to expect this on a Sunday afternoon also outside the season, and we must not complain about the crowds – after all, we ourselves are part of the tourist stream. But St. Malo would do well to reduce the car traffic in the medieval alleys exclusively to the locals!
After an extensive sightseeing incl. overpriced coffee / tea and cake we drive on towards Cancale. Shortly before St. Coulomb we end the day on a camping site with "beach surcharge", whereby today the own kitchen remains cold. We eat a pizza in the buvette and drink red wine stylishly from plastic cups.
Translated with www.DeepL.com/Translator