Monday 13 June, 2016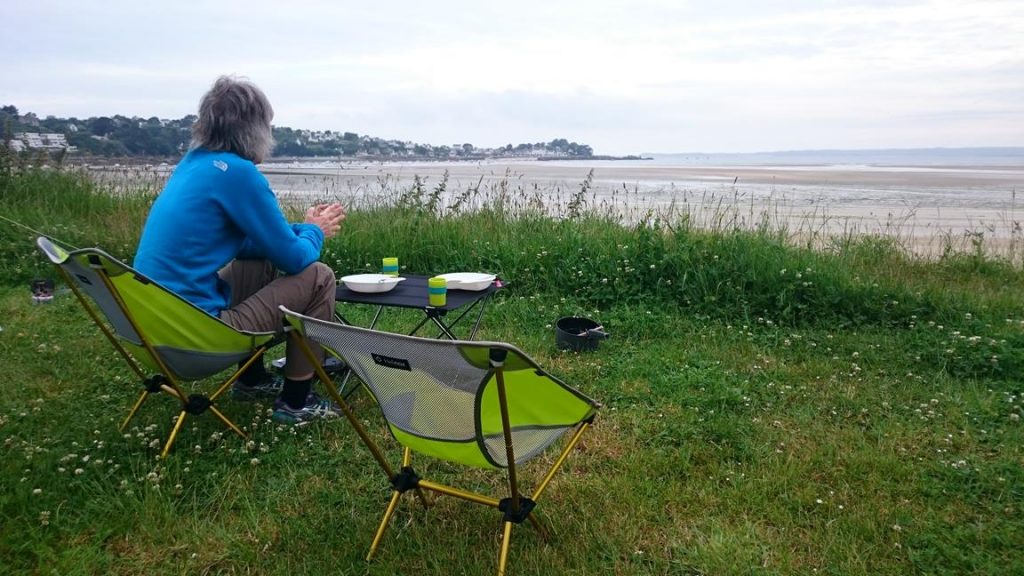 After a cool, but with a view to the sea enriched breakfast, today we continue on streets, often on a separate bicycle route. Before St-Michel-en-Greve we observe shovel loaders that push huge algae mountains together on the beaches exposed by the low tide and load them on trucks. But since the tide is already coming up again, it reminds a little of the cattle stables of Augias, only that here, Heracles is not at work and the tide does not wash the dirt through, but only back again. So it's Sisyphus after all?
Again and again we notice today that the EV4 track, which I downloaded from www.biroto.eu onto my navigation device, doesn't match the signs everywhere. Obviously, there is no rule which alternative is best – sometimes the signs direct us to busy roads, while the navigation device selects quieter side roads, sometimes it is exactly the way around, sometimes (too) narrow paths are chosen, even though a barely frequented asphalted road lures us nearby – only common sense helps!
In Lannion we actually only want to buy something and drink a coffee. It turns into a longer lunch break, as the sky is opening and the Atlantic is pelting down on us.
Along small roads with stunning views (if only it were a bit sunnier) we drive to Ploumanach, where we cook stylish cycling noodles on the campsite in the evening!