With wheel and foot to the Waldau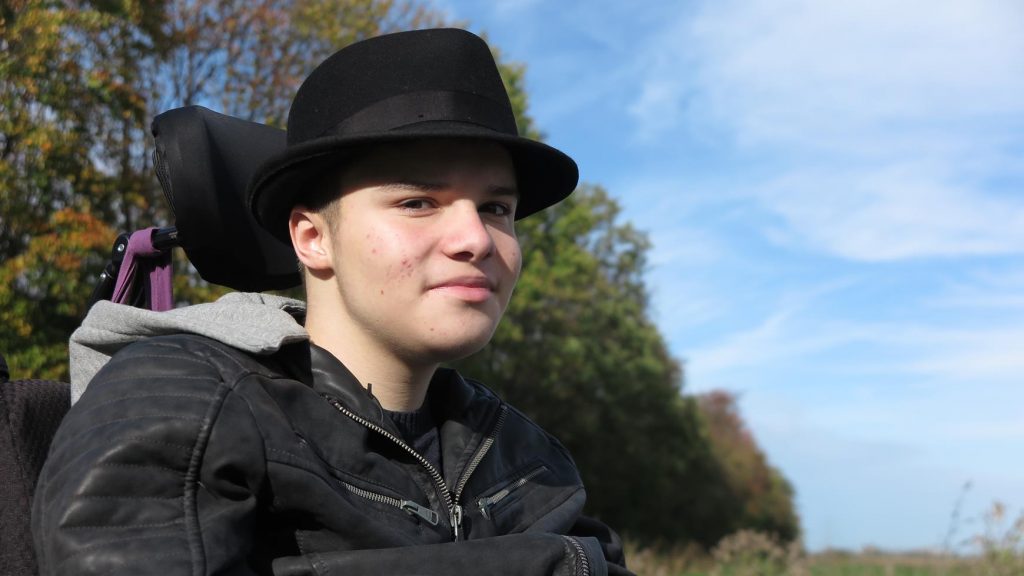 Christian is 17 and attends a vocational college. In his leisure time he likes gaming or playing on his harmonium. He can probably tell more about the company Nintendo, its long-time boss Hiroshi Yamauchi and his "sound mastermind" Koji Kondo than the two gentlemen even know about themselves ? He knows all Super Mario games and levels and is a big fan of the "Zelda" series (The Legend of Zelda). He'd also like to hang out with his friends more often, but that's difficult when you have muscular dystrophy, can't stand on your own legs for four years, and rely on an electric wheelchair.
I met Christian last summer as a volunteer of the ambulant children and youth hospice service (AKHD) Bonn. Since then we have been doing something together every week – unless I'm on the road again. At that time he already had the idea for a hike. Not a city trip, but to walk through normal places and villages. We rejected a few plans again for different reasons, but finally here we are: we start without any problems at his front door in Rheinbach, destination is the Waldau in Bonn. Christian is on his autumn holidays and the weather forecast promises up to 21 degrees: today everything fits!
The clouds look like badly animated
… says Christian, as we walk along the railway line and through fields and tree nurseries shortly behind Rheinbach – or drive: the quiet hum of his electric wheelchair is our constant companion, which leads kilometers later to the saying: "it's so quiet here when the wheelchair doesn't make any noise"! But funny, about the clouds: after all, they are more real than any animation.
And another sentence shows me how natural some things seem to me, while I am on the road a lot by bike and on foot, which are not necessarily the same from a wheelchair point of view:
Completely unusual to see so much sky without a house in between!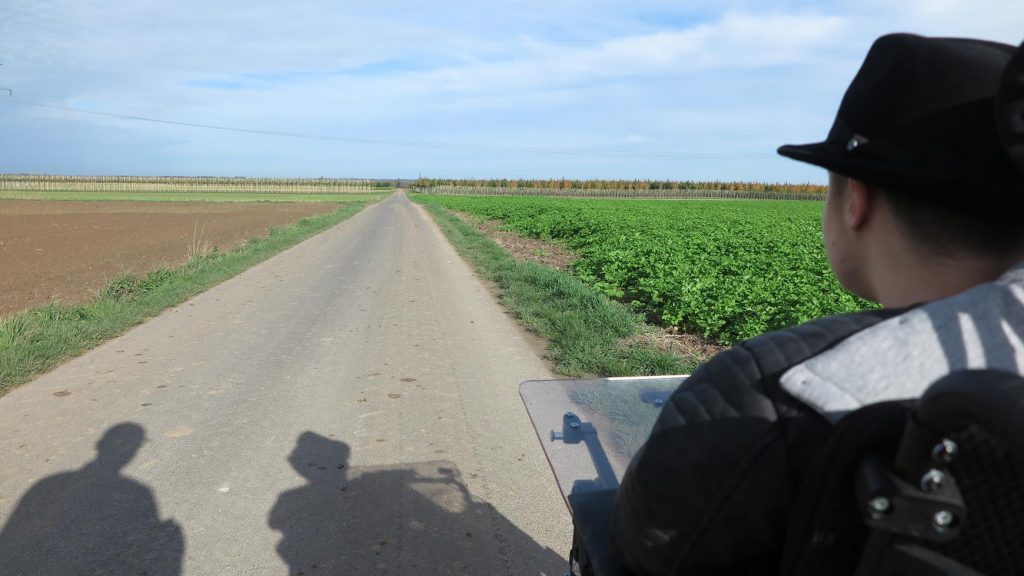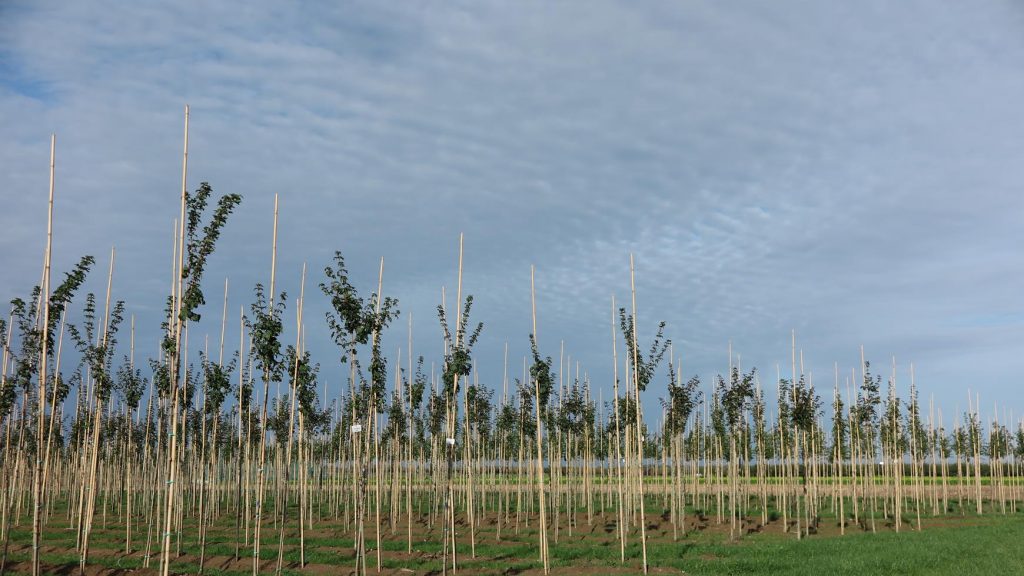 After about an hour we have to pass through Flerzheim. There is no continuous wheelchair accessible route here. About 200 meters there is either no sidewalk or there is no lowered curb where Christian can go up or down with his wheelchair. He drives towards the traffic on the left side of the road, I run after him, so that the warning vest that I threw over can be seen above Christian's head. The motorists approaching us all make a wide berth. Well, there you go!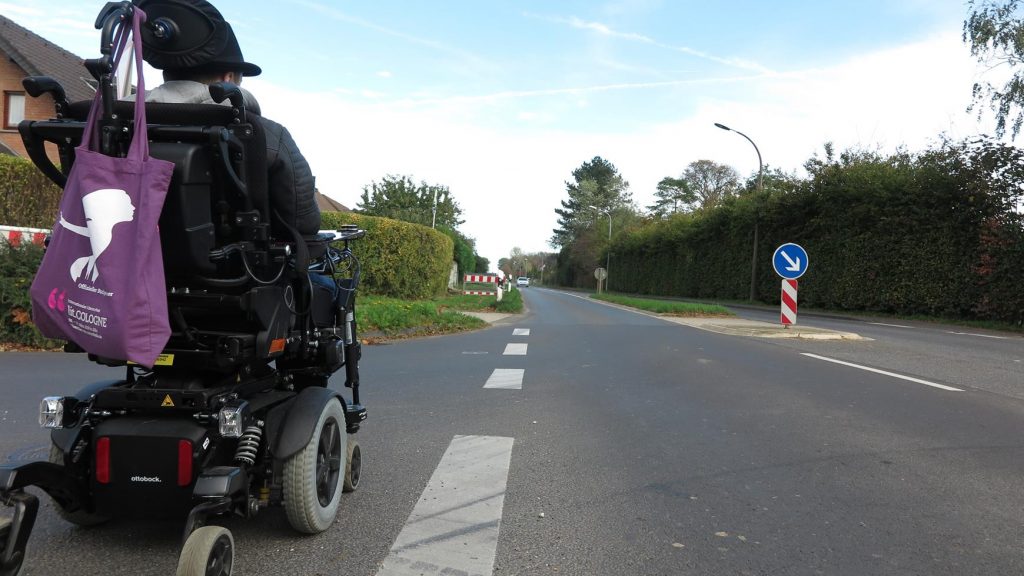 In Lüftelberg we pass the water castle. Unfortunately, we can only take a look at the property from the outside; the castle is privately owned. After we have left the village, we have to walk again on a road free of sidewalks. But this is a two kilometres long dead end street that ends at the Kottenforst railway station and is practically not used during the week. Christian turns on his hazard warning lights for safety's sake, but this soon proves to be unnecessary: even one and a half kilometres further on, no car has passed at all.
Station Kottenforst: Half time! And break. After 10 km on asphalt I slowly notice my feet. A cappuccino on the terrace or a cocoa respectively pimp us up again – in the sun it is really warm!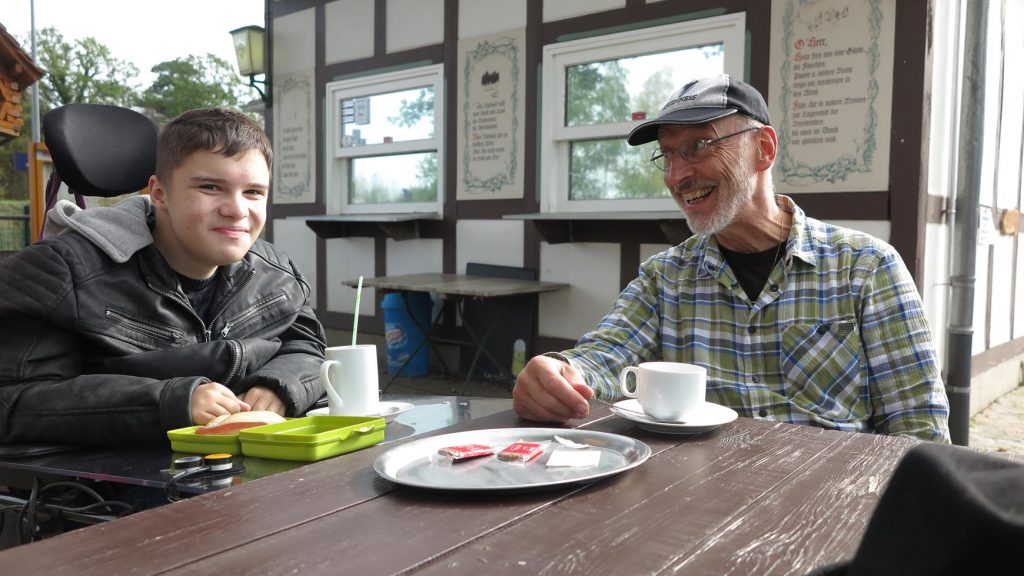 Now we head into the forest. And it "looks so friendly", as Christian says. No wonder, beside autumn yellow and red there is still bright green, through which the sunbeams cheat and make the colours shine!
As always in the Kottenforst, the path is full of beetles that want to change sides of the road, some to the left, others to the right, there doesn't seem to be any logic and they can't agree on the direction either. Comment Christian:
There are so many beetles here, I had to give way a few times to avoid driving them flat.
At the Jägerhäuschen, a nearly 300 years old relay station for coursing (the horses were changed here), I tell Christian a little about the elector Ernst August and the light yellow plaster so typical for his buildings, which is also to be found in Bonn and Brühl. Afterwards we talk about good and bad films, animes, time and space continuums, forest works and suddenly we reach our destination, the Waldau. Here Christian is picked up by his mother and sister, but only after we have eaten coffee and cake. We deserved it!