After a mosquito-rich and cool night we quickly dismantle our tent to drive to the Connemara National Park Visitor Centre. According to the weather forecast, the morning is supposed to be dry before an extensive rain area comes in at noon and dilutes the rest of the day. That's enough for a short tour up Diamond Hill – in Gaelic: Binn Ghuaire. However, nobody needs digging here. The fact that the shape reminds a little of a diamond is a possible explanation for the name we are told in the visitor centre.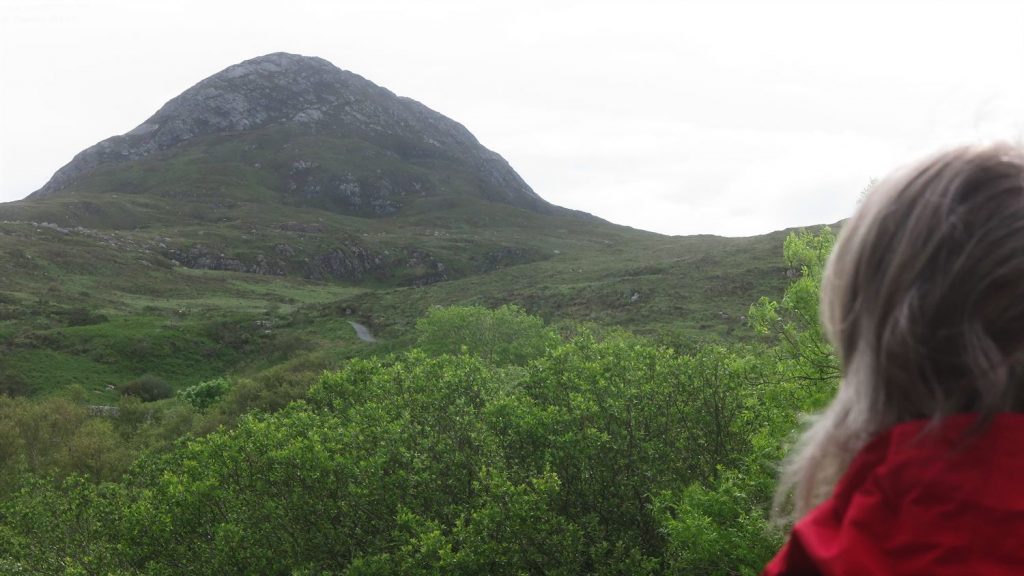 We walk along a broad, well constructed path that obviously receives thousands of visitors per year, through a peat bog where some woolly grass blooms. Larks accompany us chirping and from time to time we hear a grouse creaking. It is probably a ptarmigan that occurs frequently here – we cannot see it. Soon the path rises, swampy passages are bridged by wooden planks, the view widens to the west to the bay of Ballynakill Harbour. The terrain becomes more rocky and now the path leads over real stairs made of broken slabs of local crystal stone. The stairs reach the sky at a height of 419 metres. Although it is quite grey, it still allows the view to the "Twelve Pins", a mountain group around the Glencoaghan. Also the Kylemore Lough with its abbey of the same name, a first-rate tourist magnet, can be seen from up here.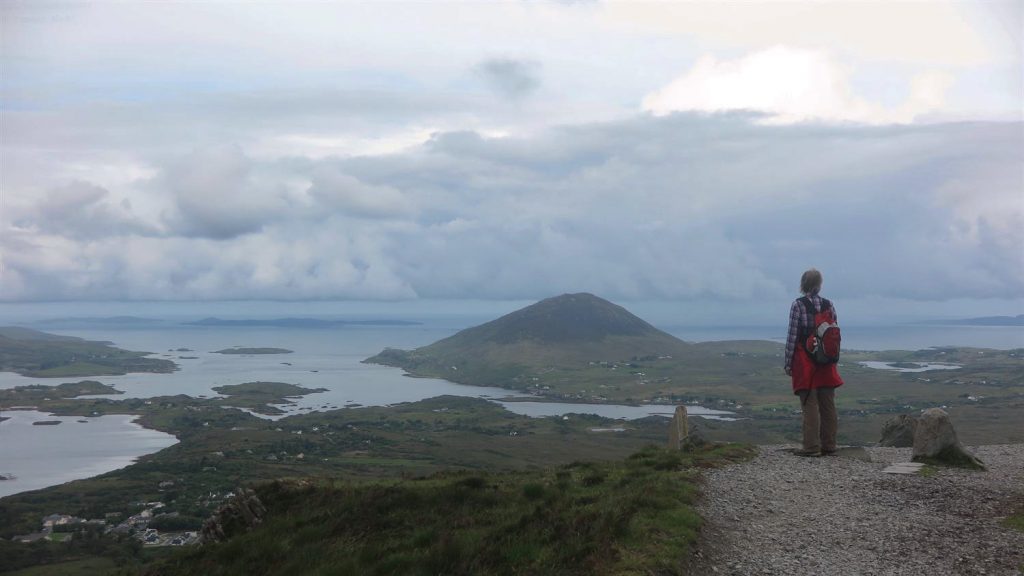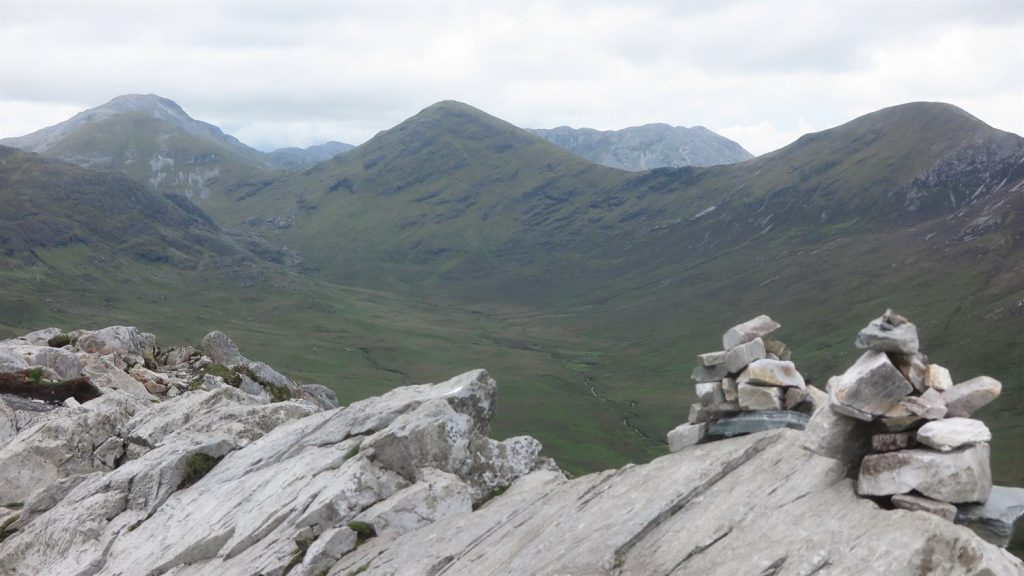 Why this road construction at all, which at least doesn't convey any original walking anymore? If the streams of visitors, which are astonishing even on a cloudy, rainy day like today, are not canalized, the tracks soon become wider and wider drainage channels, way cutters cause the dismantling of the unstable slopes and the erosion exposes the mountain to the bare rock sooner or later. The peat, which has grown over several thousand years after the last ice age, has largely been mined in the last 50 years. Only 17,000 hectares – 1.5% of what existed 500 years ago – could still be protected. Connemara has the largest contiguous peatlands in Ireland. Of course, the national park has a special responsibility to protect them.
The rain comes at noon when we are already back at the visitor centre.
Total distance:
7.44 km
Max elevation:
418 m
Min elevation:
57 m
Total climbing:
395 m
Total descent:
-395 m
Download file:
Diamond Hill.gpx
Translated with www.DeepL.com/Translator