The Gap of Dunloe, a narrow mountain pass between the Macgillycuddys Reeks and the Purple Mountains, has been highly recommended as a hiking destination by our hosts. Not a long tour, but it should be beautiful. A picture of the valley of the Loe, formed by glaciers and leading up to the pass, is also shown in our breakfast room. In Tripadvisor we read comments like "Yes, of course it's a nice spot, but because you can drive the road (and not only locals or residents do that) it's unsuitable for hiking, also because it's an asphalted narrow road that you walk along for a good 10 km". Our hosts assure us that cars only drive before 9 a.m. and after 5 p.m., because there is not enough space on the narrow road to pass the carriages during the day. Since we only want to do a small tour today anyway, we risk it.
The car stays in the parking lot at Kate Kearney's Cottage, a live music tourist pub and restaurant with a gift shop. Signs indicate what to expect in the valley (narrow places, bridges, 16% gradient, pedestrians, carriages, spinning cyclists,…) and that the traffic is mainly limited to horse-drawn carriages, hikers, residents or allowed as access to accommodation or for business purposes. As we notice throughout the day, the phrase "primarily restricted" is interpreted in the same way as " residents free". Everyone who drives a car here is resident for a day in this beautiful valley. There is no time limit.
Warnings and Restrictions for the Gap of Dunloe
And the valley is really beautiful. Sheep graze on the meadows, yellow lilies and light purple rhododendrons bloom, in swampy places there is again the blue-flowering butterwort with its light green thick leaves. It also passes several lakes and crosses small stone bridges. From time to time we are overtaken by single horse carriages that transport two to four tourists to the Gap. Before a counter-climb the coachman lets the horse fall into a fast trot, so that it gets the heavy load up as well. If it gets too much, the coachman who is standing on the back of the carriage sometimes gets off to reduce the load.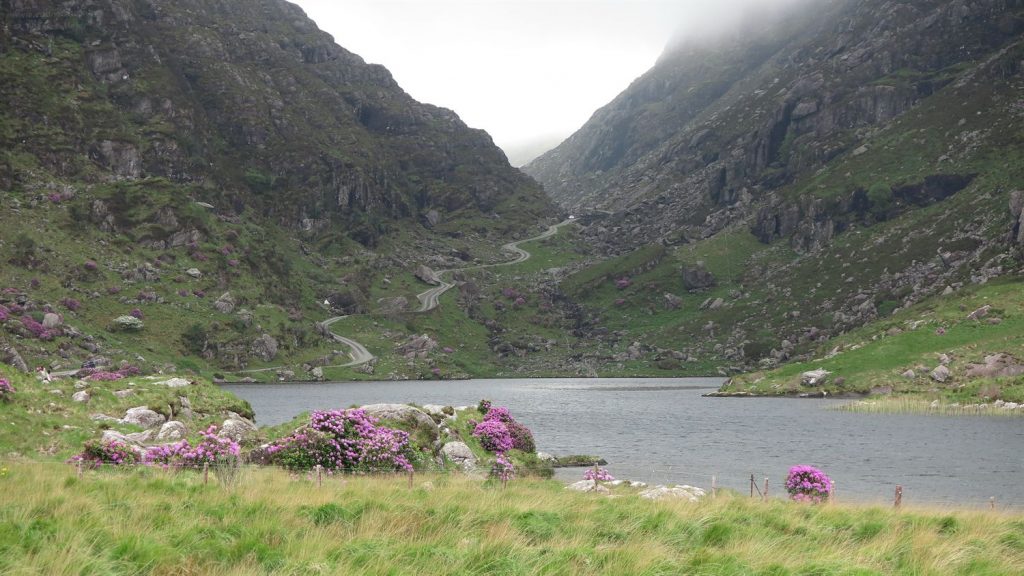 The traffic (see above) is at least limited, only every few minutes a car passes by. Behind a caravan of nine carriages there are three or four cars jamming. I have nothing against the carriages, a source of income for the local population, but it would be nicer without cars and motorcycles. And a travel group of eight Harleys clearly disturbs the peace and tranquillity of this landscape with their roaring sounds. But we only encounter it when we walk down again at noon. Beforehand at the Gap we met a retired Swiss woman who has been touring Europe with her scooter for almost five months and with whom we talked for so long until it gets too cold for us in the strong wind on the pass.
Total distance:
12.18 km
Max elevation:
243 m
Min elevation:
58 m
Total climbing:
423 m
Total descent:
-423 m
Download file:
Gap of Dunloe.gpx
Translated with www.DeepL.com/Translator