What? Even more caves? A clear "yes!". But more about that later.
I am always enthusiastic about the amazing people I get to know. Itzok and his family also welcomed me warmly again and gave me the best possible hospitality, and we had a variety of topics for which an evening was simply too short. Needless to say that I also issued a counter-invitation here, should he or the family ever come to Bonn! But everyone has to get up early – to work or to school – and so do I, of course. That has the big advantage that I am on the road in the cool morning hours and I sit on my bike already at quarter to eight, although it is not far today. Because the caves of Škocjan belong to the same karst as those of Postojna, there are only about 30 km in between.
But in between I get once again a descent served, which is so gravelly that I almost have to push. Downhill! A paradise for a full suspension mountain bike, but my cooking utensils with the gas cartridge and all the bags on the bike clatter, so that all the birds are silenced in an environment of 50 metres! Spectacular also the last kilometres to Škocjan. What my Navi offers me here is a wonderful, narrow and limestone interspersed hiking path, but definitely no cycle path! But therefor I pass directly above the big Doline!
Actually, I wanted to go to the campsite first and then enjoy the newly caves in peace and quiet. But because the campsite is a few kilometres away from Škocjan and it is too early to set up my tent, I decided differently at short notice. And that's quite good, too. One guided tour just started, the next one starts at 12 o'clock and takes about 3.5 hours including a walk along the underground Reka and through the dolines!
By the way, you are not allowed to take pictures in this cave! On the one hand it's a pity, on the other hand I can let it have its full effect on me. And it actually has a completely different focus than Postojna. While yesterday it was mainly the stalactite variety that fascinated me, today it is the sheer size of the halls and especially the underground canyon that the Reka milled into the rock in about 3 million years. It is 100 meters high, several kilometers long, of which about 400 meters are accessible. The explorers have pimpled steps and paths into the rock and secured them with ropes. This looks like early via ferrata, for many of them are still preserved, even though new paths have long since been laid out for visitors. Although a Tolkien fan myself, I must say: Moria is nothing against it! But maybe Tolkien got some suggestions here!
From the Schmidl-Halle, through which one leaves the cave and which at the same time was the first entrance to the cave, the camera can be pulled out. Also for the further tour through the dolines. Therefore here are some photos: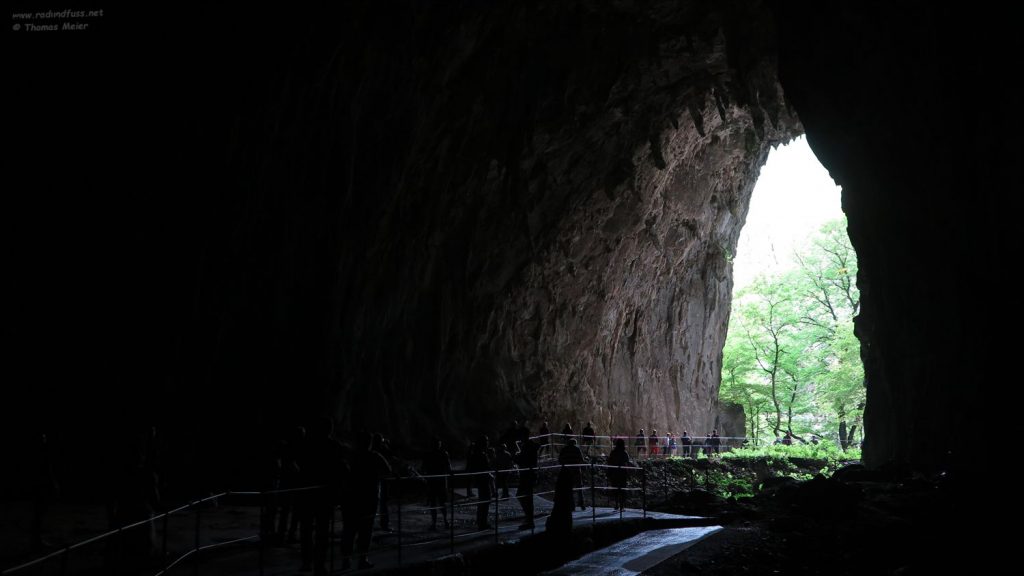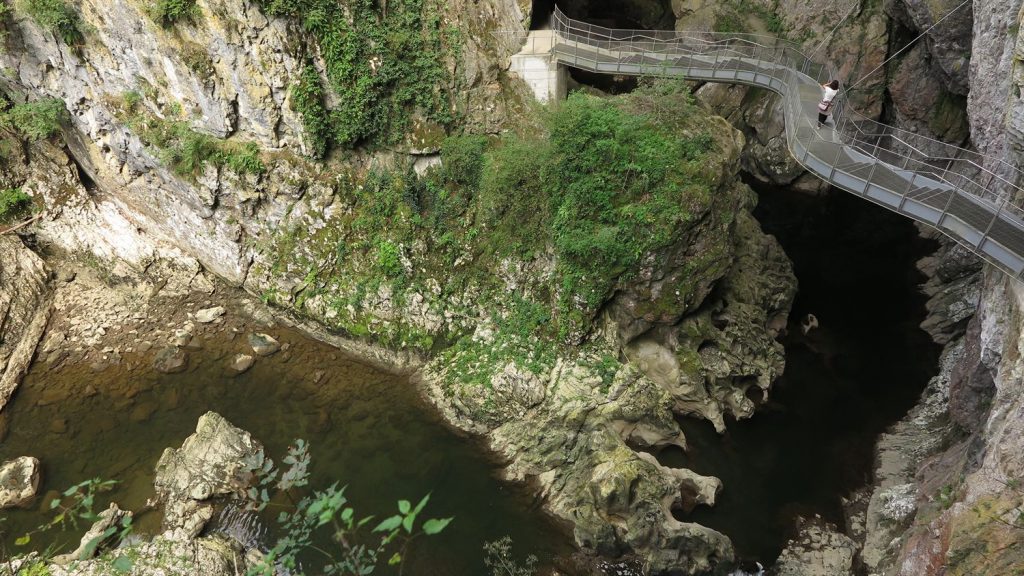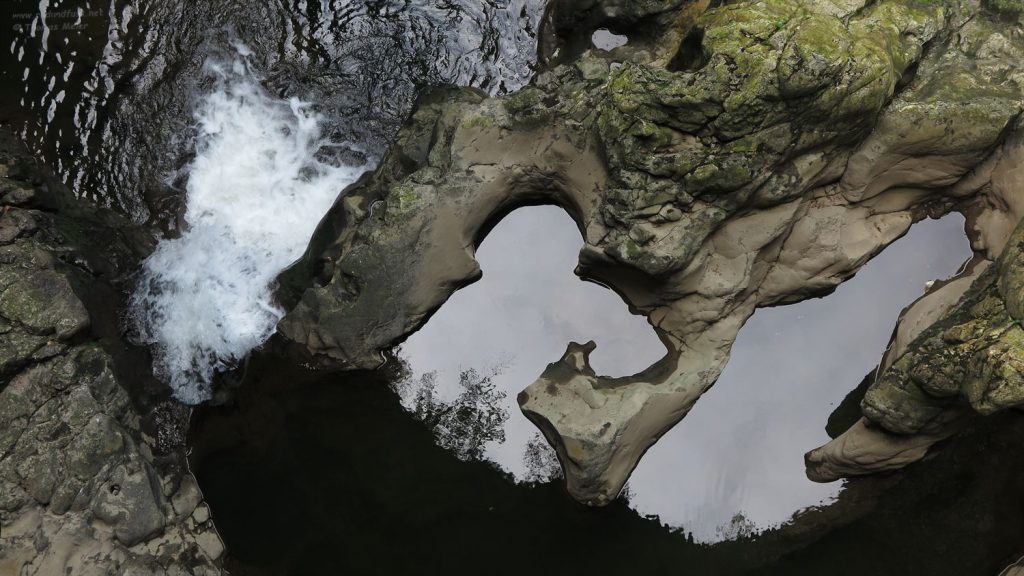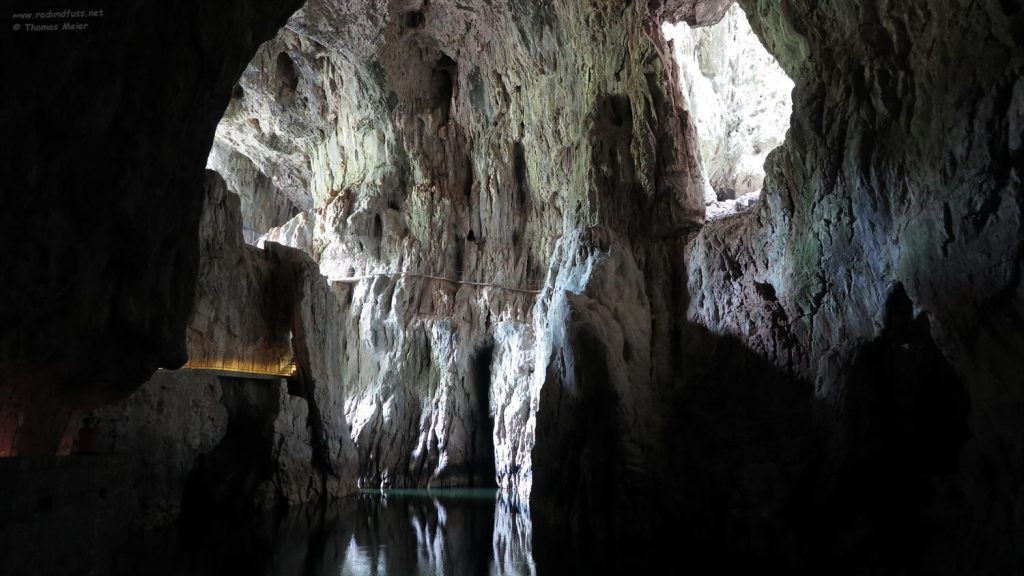 Yes, and then I shot myself in the knee, like that: My supplies are all gone, there is nothing to buy at the campground, the supermarket of the village is only a facade. The bar in the neighboring village, where I could possibly go for dinner, only takes cash and my cash reserves have also decreased considerably due to the two cave visits. That what is still there, I need for the campsite. There is a cash machine just like an open supermarket in the next but one Village. And that means: cycle another 7 kilometres and 160 metres altitude difference (one distance!). Fortunately I haven't had a shower yet!

Translated with www.DeepL.com/Translator

Total distance: 37.01 km
Max elevation: 678 m
Min elevation: 363 m
Total climbing: 597 m
Total descent: -790 m


Download file: 20180913.gpx