When I fill up my drinking bottles at the cemetery in the morning, an old woman speaks to me, of course in Slovenian. Unfortunately I don't understand her, but she doesn't understand me either, neither German nor English. Thereupon she simply presses my arm with a friendly smile, greets and walks away. Sometimes it's the little things that start the day off well!
As I drive off, the sun is just beginning to clear the morning fog. Once again it goes up a small valley, narrow at the bottom and interspersed with limestone rocks, which opens slowly upwards. Now, at 9 o'clock there is more traffic than I expected here. But still the drivers behave very considerate towards me, overtake with far distance or behave with oncoming traffic behind me. And this has been the case in all the countries I have driven through so far, in Poland, the Czech Republic and Austria as well as here in Slovenia. Is that because I am clearly recognizable as a touring cyclist? Or do people generally accept cyclists here more as road users than at home? I am not used to so much consideration from Germany!
The first and as it looks the only bigger ascent of the day I overcome soon. Now there is an endless descent, only interrupted by a short coffee break in Dol pri Hrastniku (yes, already now! – I felt like it after the ascent 🙂 ), until I reach the Sava in Hrastnik, which I will now follow to Ljubljana. Again such a deeply cut valley, the river now wider, but unfortunately again and again disfigured by industrial plants, which were forced into the valley. The most spectacular is certainly the former coal-fired power station in Trbovlje, with the highest chimney in Europe at 360 metres. A true monster! And no, there is no photo of it in this blog. First of all I don't like chimneys so much and secondly even my wide angle would hardly have been enough to put it in the picture.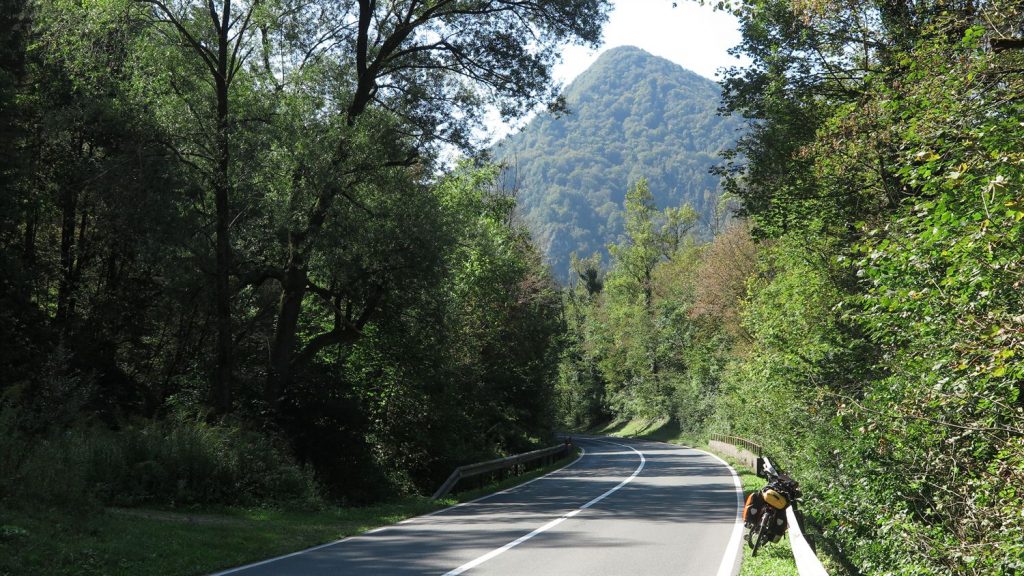 As beautiful as the valley itself is, car traffic is annoying. I have already driven 30 kilometres today, when the valley becomes so wide that there is also a narrow road on the other side of the Sava, which I reach over an old wooden bridge. The valley widens, the mountains become lower and run in flat waves into the Ljubljana basin. Behind it, however, the next heights are already piling up, over which I must probably have to cross behind Ljubljana. But first I go into the city on narrow and narrowest paths.

A few kilometres outside the centre, Nikolaj, whom Lena had met in Munich in the summer and who put me in touch with him, awaits me. He and his family gave me a very warm welcome and spoiled me with my own room, a delicious dinner and a good Slovenian wine. I get so many tips for my further journey that I can't implement them all. The most important hint from Andrej, Nikolaj's father, an active cyclist himself, is probably that the further EV9 route has some steep gradients (> 10%), which can be easily avoided on an alternative route. I accept the tip gratefully. And as far as the Karawanken are concerned, I have to let myself be corrected: in Slovenian usage, the foothills of the mountains over which I drove do not belong any more to it.

Why does Ljubljana leave here for such a short time? Well, I'll watch it tomorrow for a whole day!

Translated with www.DeepL.com/Translator

Total distance: 90.4 km
Max elevation: 434 m
Min elevation: 214 m
Total climbing: 2276 m
Total descent: -2182 m


Download file: 20180910.gpx