After I did without visiting the city yesterday, my way today leads me to the tourist information. The young man I'm asking for some information seems to be an avid fan of his city. Anyway, I get a city tour par excellence, even if only verbally and with the finger on the city map – introduction to Polish history included. He obviously thinks it's a pity that I still want to go to Thorn today. Not only because there is an old rivalry between the two cities – Bydgoszcz was the seat of Polish kings, Thorn was founded by knights of the Teutonic Order – but also because Bydgoszcz itself has a lot to offer. Okay, the marketplace isn't one of them today: it's a big construction site. But there are many interesting buildings from different times, which can be run in a manageable time frame. There are, for example, the late Gothic cathedral with its interior in red, violet and gold tones and the beautiful vaulted ceiling, or the half-timbered storehouses on the Brahe, the river that also gave the "Bromberg Venice" its somewhat euphemistic name. It's a pity that the beautiful market hall has only two jumble stands – there is clearly no mat glue here.
But also beyond the Brahe there are many beautiful buildings, mainly from the 19th and 20th century, Art Nouveau and Wilhelminian style. I also imagine a city tour from the water, which I save myself for time reasons. But a greeting from Master Twardowski, who appears every day at 01:13 p.m. and at 09:13 p.m. in an attic window at the market, I pick up after all. Pan Twardowski is something like the Polish Faust, a nobleman who sold his soul to the devil for power, influence and fame. Many cities in Poland claim that he had lived within their walls at least temporarily. This also applies to Bydgoszcz.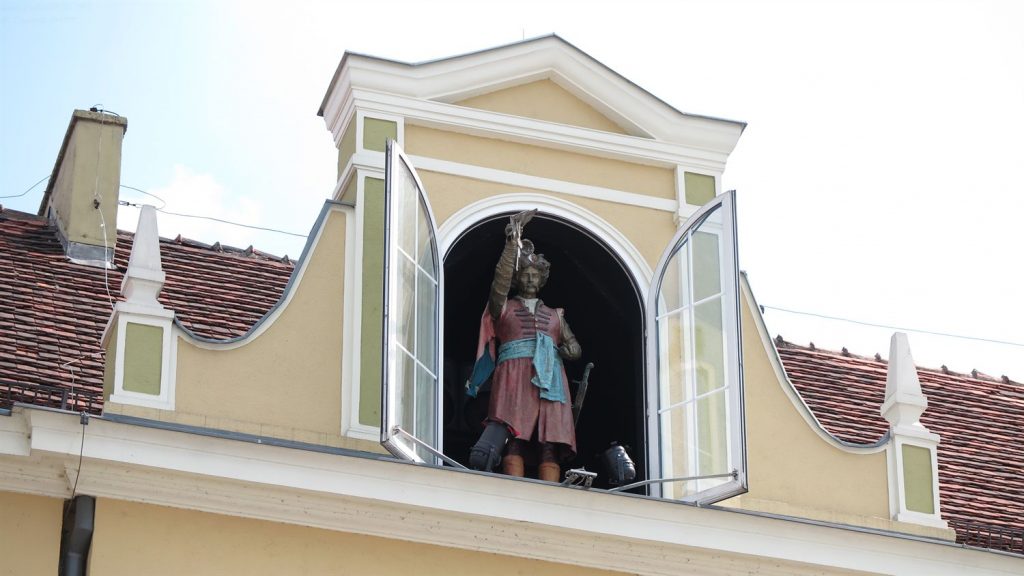 After my round I pick up my luggage at the Tourist Office, where I was allowed to deposit it and point out the Eurovelo 9, in the context of which Bydgoszcz could certainly score points. I stow my luggage on the bike when the young man comes running out of the Tourist Office again to give me a handful of cream toffees – as a thank you for the tip and greeting from Bydgoszcz!
I'm still not far out of the city centre and I'm standing in front of a red light when someone says "Guten Tag". An elder man asks me in German if I want to go to Thorn. But if I continue here, I would have problems to get over the railway and he could show me another way over side roads to the bridge over the Wisla. I have my GPS, but that actually showed a way over the track yesterday, where there was none! So why not? Tadeus ("back without z!") is 83 years old, worked as an translator and rides his 3-speed bike in front of me as if he would never do anything else. In fact, besides swimming, cycling is his daily sport, as he tells me in the course of our journey, which also allows us to cross the bridge together to Ostromecko Castle.
On small side roads with little traffic, mostly asphalted and without much wind it is now heading towards Thorn – cyclist's heart, what more do you want! Except maybe it'll stay that way. But suddenly the asphalt ends and you realize that Poland is a big sandbox. The only thing that helps here is to hold the handlebars loosely and drive in a controlled manner, but do not drive too slowly. After all, I have 2.5 inches wide tires, they'll put something away. But also these are at some point at the end and then only pushing helps. Fortunately, the asphalt-free condition is over after just under a kilometre and it's running again.
Thorn: that means again wide streets, socialist residential buildings – but our 50s housing silos were no better! – and a surprising modern church. But more on that tomorrow.
Translated with www.DeepL.com/Translator
Total distance:
63.36 km
Max elevation:
96 m
Min elevation:
25 m
Total climbing:
392 m
Total descent:
-396 m
Download file:
20180817.gpx